I realize that my last post was perhaps a little "dark" for some of my audience. It may have been a bit self-indulgent to share it with you and I thank you for your comments. Writing has always been cathartic for me, though, and telling that sad story has helped me wrap my mind around it and move on.
In the spirit of changing the tone and the mood of the blog I would like to take this opportunity to share with you some of the actual photos I have taken myself and accumulated during my travels. I absolutely love quirky, odd things and superlatives. I will happily drive 50 miles out of my way through the sand hills of Nebraska to see Chimney Rock which is …. well, … I just can't do it justice ….okay, it's a big rock that, get this, looks like a chimney. I love giant statues of Paul Bunyan, and fish, and the biggest whatever, wherever. And I love weird juxtapositions and clever put-ons. This country, in my experience, is not a sad place fundamentally. It is a fun place filled with interesting characters and crazy, wacky folks doing interesting things. Here are a few: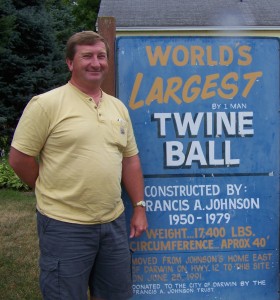 Yeah, I guess that's a pretty big twine ball. I love the little qualifier they have stuck in there in very small letters (By 1 man). I'm hoping that means there is an even bigger twine ball out there (made by a whole family, perhaps)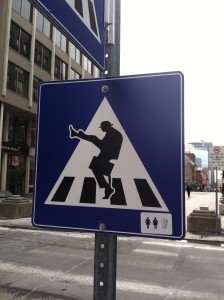 Actual sign about a block from the Canadian Parliament Building in Ottawa, Ontario. Presumably it is near the Ministry of Silly Walks.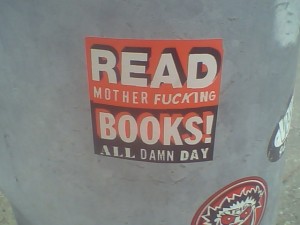 A "pro-reading" sticker on a light post in Portland, Maine. They are passionate about their reading in Maine, it seems.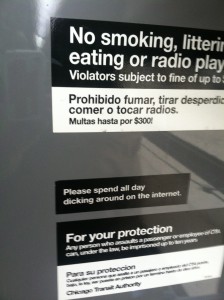 Chicagoans are just as passionate about web-surfing, apparently, at least according to this sticker on a CTA bus.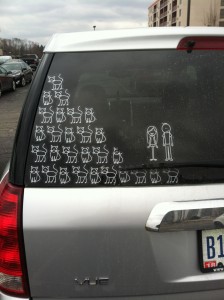 Cleveland, Ohio Wal-Mart parking lot – Okay, I believe the boyfriend thing and I believe the 28 cat thing, but I don't believe them at the same time.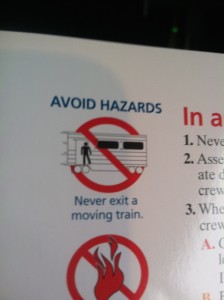 Amtrak Train between Galesburg, IL and Chicago. – "Never Exit a Moving Train" You must admit it's good advice!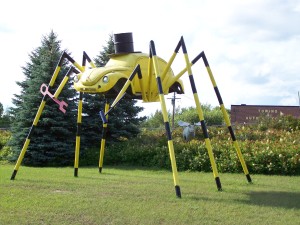 Kenora, Ontario Auto Repair shop. – Yeah, that's a pretty big bug!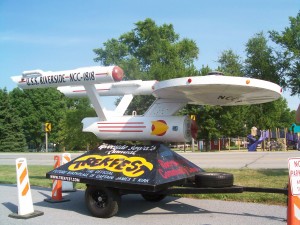 Riverside, Iowa – My favorite part is that it's the Future Birthplace of Captain James T. Kirk.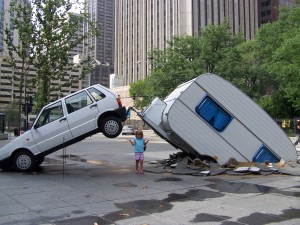 Chicago Modern Art Museum – Lesson: Don't give the four year old the keys.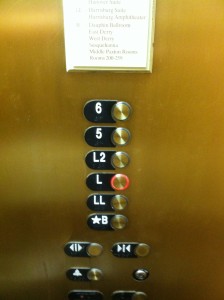 My favorite elevator at the Holiday Inn in Harrisburg, PA. Good luck getting to the fourth floor where my room was.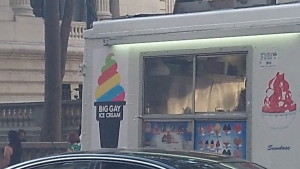 Broadway, New York City – Big Gay Ice Cream! Is there any other kind?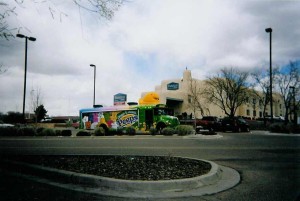 Santa Fe, New Mexico – Some people just really like Peeps.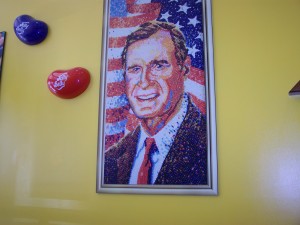 Kenosha, Wisconsin – Some people just really like Jelly Beans. Former President George Bush done completely in Jelly Belly Jelly Beans. I thought it was Reagan that was so crazy about those.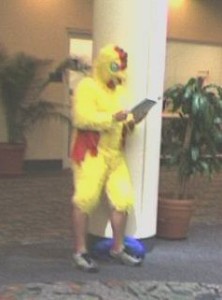 Jacksonville International Airport, Jacksonville, Florida – I swear to God he was just standing there reading a magazine as if it was the most normal thing in the world.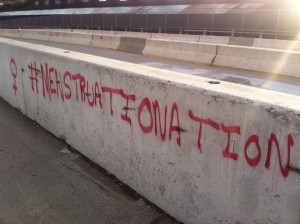 Graffiti on bridge near Bethlehem, PA – "#Menstruationation" I'm way to smart to comment on that.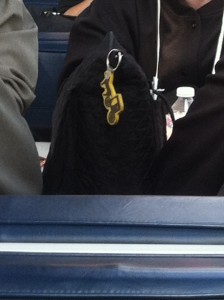 Amtrak Train near Princeton, Illinois – A key chain on the handbag of an Amish woman. No keys needed, obviously.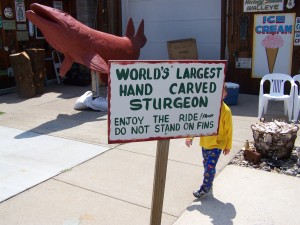 Prairie du Chien, Wisconsin – World's Largest Hand-Carved Sturgeon. It was a close thing for awhile, but this is the winner!!!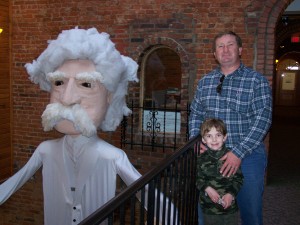 Muscatine, Iowa – Yeah, that's a pretty big Mark Twain!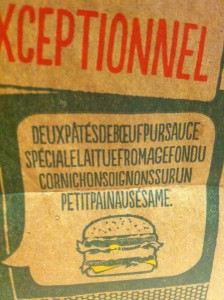 McDonalds, Gatineau, Quebec – Did you ever wonder how to say "Twoallbeefpattiesspecialsaucelettucecheesepicklesonionsonasesameseedbun" in French. Well, now you know.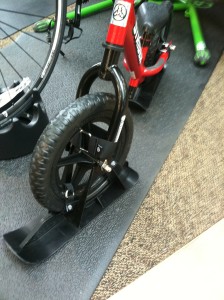 Sporting goods store, Iowa City, Iowa – Skis on a kids bike – What could go wrong?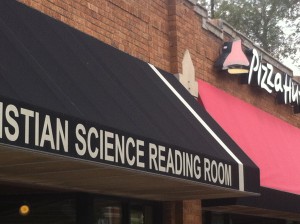 Wichita, Kansas – Christian Scientists are hungry for knowledge – and pepperoni! Credit for that clever caption to my friend Gregg.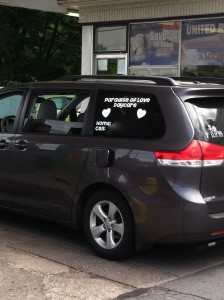 Syracuse, New York – "Paradise of Love Daycare." Boy, they like to set the expectations pretty high right off the bat. The best part was the menacing looking guy driving the van who was a doppelgänger for Javier Bardem's character in "No Country for Old Men."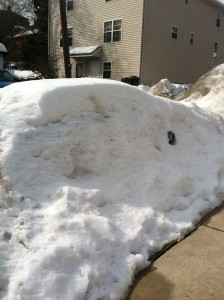 Allentown, Pennsylvania – Yep, that's a rear-view mirror sticking out of the snow. No matter how bad your Winter was this year, it wasn't this bad.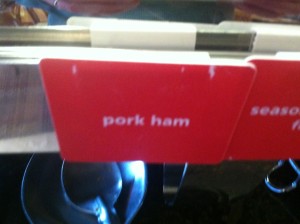 Oklahoma City, OK – Unnamed hotel breakfast buffet. "Pork Ham" – redundant, you might say. After tasting it I still wasn't sure.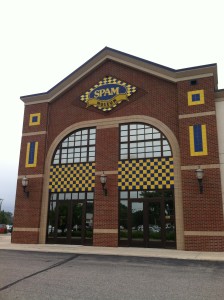 Spam Museum – Austin, Minnesota – No Pork Ham here. It's "Spiced Ham". And yes, they give free samples.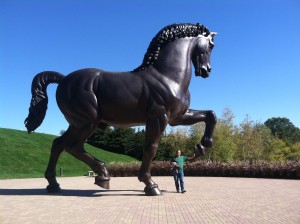 Meijer Gardens, Grand Rapids, Michigan – Yeah, that's a pretty big horse. And, yeah, that's me about to get squished.
And, Finally,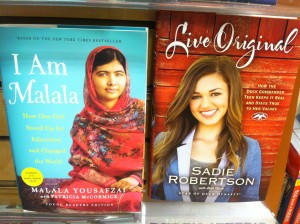 Barne's and Noble, Iowa City, IA – An actual side-by-side display. Let's see, I can get the life story of the Nobel Prize Winning teenager who was shot in the face by the Taliban religious extremists for speaking out in favor of letting girls go to school or …… you know…. that Duck Commander Girl…. you know, she was on Dancing with the stars…..Nice Job, Barne's and Noble.